Environmental Policy
We at Maruzen Intec consider environmental protection to be a core management pillar. We have established the following continuous improvement policy in order to highlight the scope of our corporate responsibility and to aid in implementing eco-friendly business operations throughout the Maruzen Group.
01.

Compliance with Environmental Laws and Regulations

In conducting our business operations, we shall comply with all relevant environmental laws and regulations as well as other requirements.
02.

Establishment of an Environmental Management System and Adoption of a Continuous Improvement Policy

We shall implement an environmental management system that ensures continuous improvement and pollution control. In addition, we shall adopt environmental objectives and goals and periodically revise them in order to improve our environmental performance.
03.

Development and Conduct of Trustworthy Corporate Operations

In conducting our business operations, we shall seek to reduce our impact on the global environment through the following efforts:
Providing society with eco-friendly products

Reducing waste through reuse and recycling

Promoting resource conservation and energy efficiency

Sharing information with manufacturers and customers in order to disseminate environmental impact reduction measures

Maintaining systems and identifying responsibilities to promote environmental management initiatives

Promoting educational efforts
04.

Dissemination and Publication of Our Environmental Policy

We shall publish our environmental policy and ensure that everyone involved in our organization is aware of and fully understands its content.

Adopted: March 20, 2005
Revised: January 27, 2017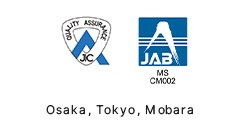 Maruzen Intec Co., Ltd. is a Environmental management system ISO14001 certified company.
SUSTAINABILITY
Through our corporate activities,
we are striving to earnestly tackle the challenges facing society as well as to continue to sustainably grow along with society.
With the management of important issues at the core of our business,
we are proactively working towards solutions to these challenges through our business operations by
trying to be more conscious of social issues within the countless areas where we interact with society.